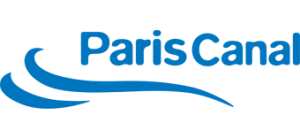 This page have been moved to
Discover Paris Canal
Paris Canal is offering you more than 40 years of experience and know-how in the tourism river sector and proposing thematic cruises on the Seine–river and Paris canals.
In addition to its famous cruise which connects the biggest monuments of the Seine borders and the musical atmosphere of the canal Saint Martin, we are introducing a large choice of cruises including never-seen packages as fascinating as romantics.
We also propose Taylor-made cruises for the morning, the afternoon, the entire day or even according to your wishes and your price range.
All your cruises are dynamically held by our accompanists who will gladly share their culture, their humor and their kindness with you.
Hoping to see you very soon on board.
Information : Our 2 hour 30 cruises on the Seine river and the canal Saint-Martin have French and English commentaries and are daily from the 3th of March to the 16th of December (outside from these dates : on demand for groups of more than 40 persons).
You'll embark close to the Musée d'Orsay on the Seine river and pass by the Tuileries' garden, the Musée du Louvre… And there is the Arts' footbridge, the Institute of France, the City's Island and Notre Dame. Not forgetting the magnificent particular hotels of the Saint Louis Island. Suddenly the adventure begins with the first lock and the entrance to the canal Saint-Martin. Here is the Arsenal Port and the Bastille's genius is looking at you from the 171 feet of its column.
Then, the boat enters in the dark : 1,24 Miles of darkness inside a mysterious underneath vault perforated by light holes… A place filled with magic and beauty. Once you come out from the tunnel, you'll discover the canal Saint-Martin filled of poetry : a surprising aquatic path surrounded by romantic footbridge which are bordered by chestnut trees and fishermen. Near the Temple's lock we can see Frederic Lemaître's bust based on a public square, Ganrance and the "Children of Heaven" aren't far from here. Here is the Recollets' lock and the Hotel du Nord : the "atmosphere" is really here ! François Villon's ghost is murmuring "Human brothers, who are living after us…". We're approaching the Dead lock where the Montfaucon gibbet was standing.
The boat passes by the Bassin de la Villette, then the rising footbridge of Crimée street before reeching the Parc de la Villette, ultimate spot of your cruise. There you'll find the Geode, the Cité des Sciences, the Music Museum and also the magnificent themed gardens.
Departure at 9.45AM Quai Anatole France, in front of the Musée d'Orsay, Paris - arrival in the center of the Parc de la Villette.
Departure at 14.30PM Parc de la Villette, in front of "Folies des Visites du Parc", Paris - arrival arrival at the Musée d'Orsay.